I've Worked with These International Clients
The COVID-19 pandemic is causing so much uncertainty in our world. As a result, major events have been canceled across the globe. It may be time to consider a different strategy!
The number one question I've been asked over the last couple of days is If I can host an online event for them… Or better yet help them organize an online event altogether.
One thing many businesses and organizers don't realize is that virtual events are more than having a person talking into a camera with a laptop! These events require a different set of expertise in order to prepare and be ready for the uncertainties that may arise and can be easily overlooked by first-time virtual organizers. For many of us, it is not our second nature to engage with a virtual audience.
Melody is known by the industry as a highly successful TV host and professional trilingual MC, and online event host, with proven track records by clients such as Alibaba Entrepreneur's Fund and the Hong Kong Science and Technology Park as part of her recent online events. The impact from these events is still resonating, discussed and shared by the virtual attendees to this day!
Book a Consultation With Melody
Traditionally MCs take a more of a "passive role" as their actions are mostly directly by the event direct, and they improvise within the pre-defined parameters. For an online event, the MC takes on multiple roles and needs to be more proactive… Sometimes they need to direct EVERYONE (on and off virtual stage, and even technical teams) as contingencies can happen any moment as a result of technical issues arise.
What Should You Look For In a Online Event MC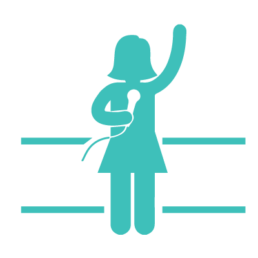 Online MC
Not any anchor or regular MC can do this job. You will need someone who is more than an MC, anchor, and presenter combined. It is not like hosting a physical event, this person needs to be excellent with off-the-script dialogue, and needs to buffer for speakers with "virtual stage fright".
Event & Technical Director
Takes part in organizing, strategy planning, developing plans to react to any technical issue, speaker or public related contingencies with minimal delays, while communicating and directing the appropriate parties as they carry out crisis protocols. More involved than a traditional MC, but absolutely necessary when being the "MC" of a quality online event.
"Invisible Moderator"
He/ she is monitoring and guiding the event even when they are not seen by the audience. They must crystal clear of all parties' content and goal and ready to bridge the gaps, while making it look like it was part of the entire act.
* Did I mention all of the above usually are done while the MC is hosting a live event?
Why I Should Host Your Next Virtual Event
Ready To Host Your Next Online Event?
Let me help you create the best online experience for you and your virtual attendees. I am more than happy to host and/or provide guidance to you when hosting your future virtual events.
Book a Consultation With Melody